Laetitia Corbett
Laetitia teaches yoga, with a focus on bringing it into people's lifestyle rather than just being a class we just attend. With yoga she is able to help improve your form and function so that you are able to move better everyday in and around the life you lead.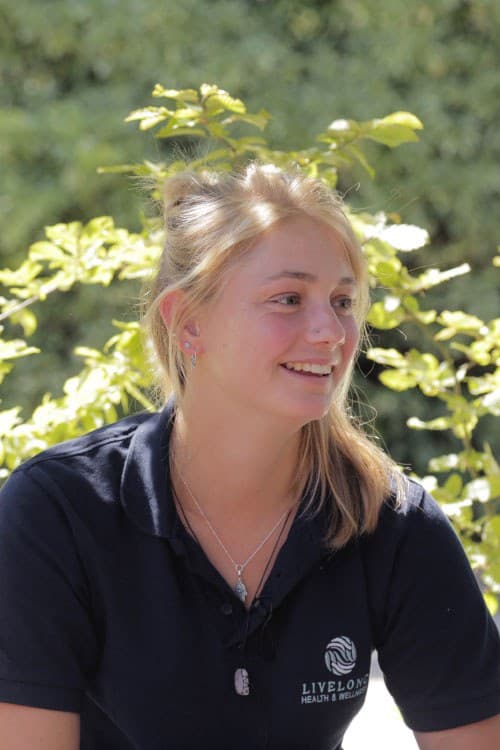 Tish trained for three months in Goa in India, with the renowned Kranti Yoga Community. Every morning she and the other students ranging in age from their 20's to their 60's, practiced an hour and thirty minutes of yoga followed by an hours mediation. Tish explained that "it was amazing to see the progression of how everyone's body's were able to move and flow, as they worked through the training, no matter their age or ability. It showed me that yoga really is for anyone and everyone."
As a keen runner the frustration of suffering from Galandualr Fever which stopped her from doing any real exercise, led her to find a passion for the gentle progressive exercise yoga had to offer. When back to full health Tish went to live with her aunt in the US in California, who at the time was doing her yoga training. She vicariously became her aunt's guinea pig and began to learn about teaching yoga.
In California yoga is more like a lifestyle, so it was there Tish developed a deep love of the practice and joined several studios. She returned to the UK with a wish to bring yoga into her lifestyle not just attend classes. This core ethos makes Tish the perfect fit for our Livelong mission, to help your body keep up with your life. Her focus is on how you move your body everyday, making her teaching style unique and approachable for anyone.
Learning yoga has also brought with it a new appreciation of breathing, a subject she is enjoying learning more and more about. Tish explained "before yoga I had always just taken breaths without thinking, now I know that if I breathe differently, I can handle situations differently. I think that's one of my favourite things about yoga and meditation is learning to change your breath to cope with what you are doing."