Kelly duRand
Kelly is a dedicated healthcare professional with a passion for helping others improve their overall well-being. She graduated from the University College of Osteopathy in 2021 with a degree in Osteopathy, a field that allows her to provide a personalised approach to patient care.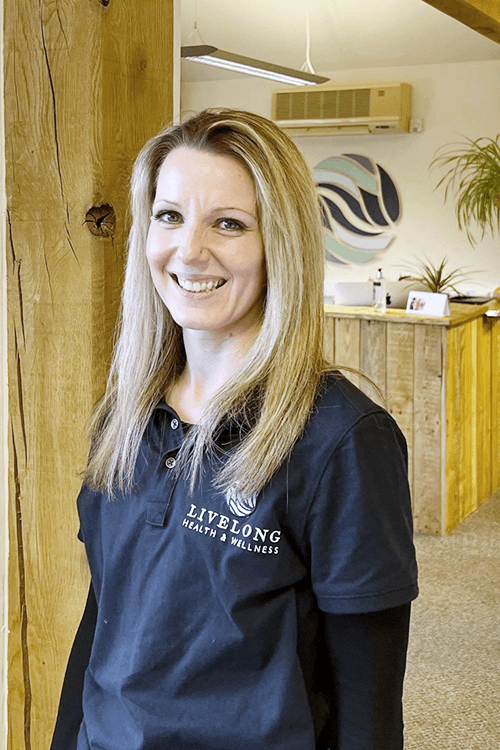 Before starting her career in Osteopathy, Kelly spent 16 years in the field of Secondary Education, where she held various roles in PE, Maths, Special Educational Needs, and Senior Leadership as a School Improvement Leader. Her initial degree in Sport and Exercise Sciences from the University of Gloucestershire in 2005, combined with her 20-year history in the fitness industry and group exercise classes, makes her an expert in sport and fitness. Kelly is also qualified in Personal Training, Group Fitness Les Mills Body Pump & Body Balance, Spin, Circuits and Yoga.

Kelly's personal interest in sporting challenges has seen her excel in elite-level Netball as a County player and England U19. But she has a wide range of sporting interests which include sprint triathlons, kayaking and climbing.
In 2018, Kelly obtained a BTEC Level 5 in Soft Tissue Therapy, further enhancing her proficiency in Osteopathy. Her experience in teaching, sports massage, fitness, and Osteopathy allows her to communicate effectively with her patients while delivering an optimal and personalised approach to their care.
With Kelly's wealth of knowledge and expertise in multiple fields, you can trust that you're in good hands when seeking treatment from her. She is a compassionate healthcare provider who listens carefully to her patients' needs and concerns, delivering the highest standard of care possible.