Tom Parry
Tom is the principal osteopath, acupuncturist and managing director of Livelong Wellness Ltd. It is his vision, personality and ethos that brings together a group of top practitioners to follow Livelong's mission of helping your body keep up with your life.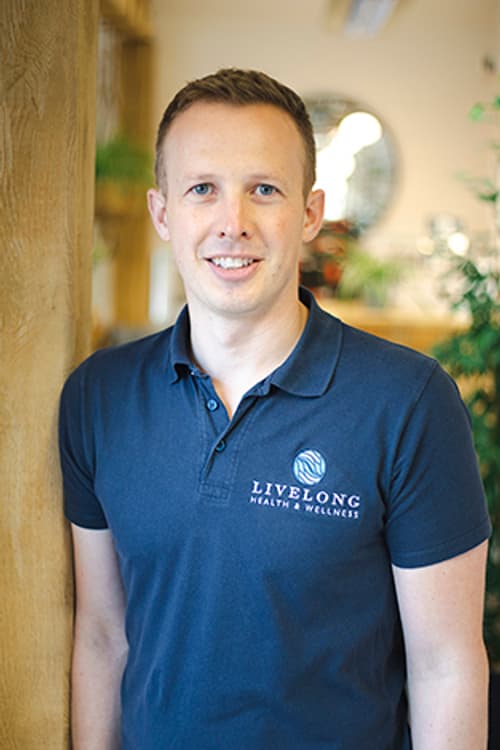 Tom qualified from the British School of Osteopathy in 2008 and toyed with setting up practices with fellow peers in Australia, South Africa and Mauritius before deciding to take root back in his home county of Suffolk. His passion for health and wellness stems from the discipline and training he received from many great hockey coaches as he worked his way from Suffolk county hockey to playing at junior international level for Wales and then Old Loughtonians in London. It is this engrained team ethos that Tom works to instill in everyday practice, to allow his patients to work with him as an accountability partner on their journey to meeting their health and wellness goals.
"In this profession you are only as good as your last patient; each time a patient steps through my clinic door I want their treatment to be the best I have achieved. There is a huge amount of personal reward to be had in being able to help people simply feel better or achieve their desired performance gains."
Tom has worked closely with sports fanatics throughout his career, but also takes particular interest in helping those who feel they have exhausted all options of optimising their health. In 2016 he became a father for the first time, a journey that has enhanced his knowledge and passion for treating pre- and post-natal patients. It helped him gain a personal perspective, helping nurture and bring into the world a healthy baby girl, and tailor a quick and healthy birth recovery for mum.
With an experienced skillset in osteopathy and acupuncture, Tom is able to combine the two disciplines into one treatment. This gives him the ability to treat delicate cases such as pregnancy right up to full term or, for example, quickly and effectively alleviate desk-bound patients with persistent headaches.